Sanctuary for the Abused
Monday, August 06, 2018
Emotional & Mental Rape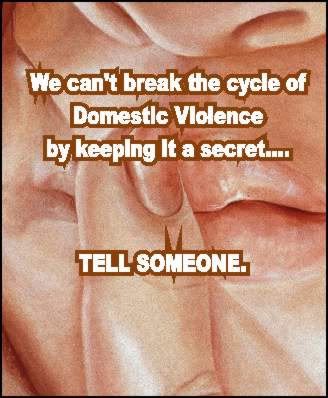 After a long seven hour night waiting tables and dealing with horny men drinking to oblivion, Jessica came home to find that her husband was ready for sex. Being exhausted both physically and mentally, she tried explaining to him that she was too tired and that her back was killing her; that the only thing she wanted to do was take a hot bath and go to sleep.
Of course, her husband grilled her. Accusing her of not working and sleeping with some customer she supposedly picked up at the restaurant. She pleaded with him and tried to make him understand that it was not personal. He continued his badgering and called her every name in the book. He, then proceeded to go on the bed laying on his back naked saying, "Look at me...I am Jessica the slut."
She proceeded to walk out the bedroom door when her husband followed her like a nagging kid. Exhausted as she was, she started crying. Dealing with her back pain and her tiredness, the last thing she needed was her abusive husband pressuring her for sex. After a long hour of persuasion and manipulation from her husband, Jessica gave in just to shut him up!
When the abuser emotionally and mentally abuses the victim, this is emotional and mental rape.
At times, a woman who is abused will have sex with their partner only to pacify the abuser to stop the "abuse." But a lot of women don't realize that when this happens, they are being "raped." Although, the victim says "yes" to the act, it is the "way" the act happened that makes it emotional rape.
In turn, the aftermath of this type of rape leaves the woman feeling dirty and cheap. She may eventually not trust or believe what people say...and if the woman were to ever leave her abusive partner; sex may become a dirty memory and therefore handicap the victim to not want sex at all.
Verbal, emotional, and mental abuse amongst other types of abuse is not "protected" or "accepted" as abuse as much as physical abuse. This leaves the victim feeling lonely and isolated.
The only way, I believe, to avoid this type of rape is to not give in. As much as the abuser can be a pain in the butt (and that is saying it lightly) just like any kind of abuse it is important to walk away, don't respond, call 911, or just walk out of the house - if possible.
NOTE: Emotional and Mental Rape described on the internet is very different from what I believe it actually is. I have chosen not to share links to emotional rape as it sends the viewer to porn sites.
Labels: abuse, adult children of narcissists, emotional, manipulation, mental, narcissist, psychopath, rape, victim